Rabbi Ari & Gila Isenberg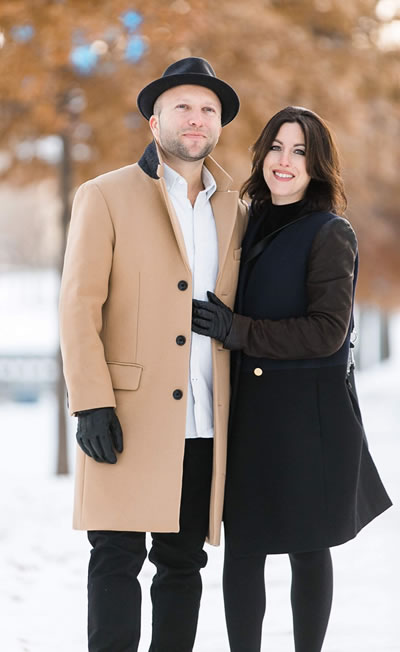 For Rabbi Ari & Gila, it was love at first "swipe". They matched on the Jewish dating app Jswipe and quickly discovered some interesting coincidences. For example, their paternal grandparents' names are identical; both celebrated their B'nai Mitzvah on Shabbat Parashat Naso; and Gila graduated from McGill University in Montreal, Rabbi Ari's hometown. But that was just the beginning of their compatibility.

Beyond the surface similarities, Rabbi Ari & Gila share core values, foremost among them, a love of Am Yisrael (the Jewish People) and Medinat Yisrael (the State of Israel). As the granddaughter of Holocaust survivors, Gila is active in Jewish advocacy by confronting antisemitism both online and in the workplace, and by supporting organizations that sustain Holocaust survivors and promote Holocaust education (such as 3GNY, ADL, and the Museum of Jewish Heritage). Their love for the State of Israel is reflected in their active involvement in JNF, FIDF, WIZO, and AIPAC, as well as organizations that support progresive causes in Israel such as the Masorti Foundation (promoting religious pluralism) and Jerusalem Open House (promoting LGBT inclusion).

Born and raised in Montreal, his current home in Millburn is a dream come true for Rabbi Ari – located within an easy drive from three NHL teams' home arenas! Prior to joining our congregation, he served as rabbi of Temple Israel Center in White Plains alongside his mentor, Rabbi Gordon Tucker, and before that at Congregation Shaar Shalom in Halifax, Nova Scotia. In his time at Shaar Shalom, Rabbi Ari did double duty, splitting his time between Halifax and New York City, where he attended the Jewish Theological Seminary, achieving a Master's in Sacred Music and Rabbinic Ordination. It is Rabbi Ari's hope that his efforts as CBI's rabbi will have a sustained impact on the lives of his congregants and will make Judaism a relevant and vibrant part of the lives of future generations.

After her graduation from McGill University, Gila entered the field of digital marketing and worked at several advertising agencies in New York City. Gila is currently President of Xaxis, overseeing the global agency's US business growth and innovation. As a leader in the advertising industry, Gila is passionate about women having a seat at the table and closing the gender gap. She is regularly featured on panels, publications, and podcasts; for example, in one podcast, she spoke about her "second career" as a rebbetzin (if you'd like to listen, search for "Ad Age + Gila Wilensky podcast").

Our rabbi & rebbetzin have quickly integrated into the CBI community. Despite the limitations imposed by the pandemic, they have hosted a myriad of events that bring people together. They hosted virtual cooking events from their kitchen, a Zoom Passover Seder, new member gatherings in their backyard, community events in their sukkah; and most importantly, they recently celebrated the birth of their daughter Mika with the congregation. Rabbi Ari & Gila are overjoyed to be CBI's honorees this year, and they hope you will join them in supporting the gala in any way you are able.