Mitchell Kovitz, CFA, CPA
Founder & Principal, Portfolio Manager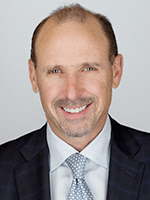 Mitchell Kovitz and his partners founded Kovitz Investment Group in October 2003 to provide asset management services and solutions to high net worth individuals and institutions.
Mitch serves as co-chief investment officer of the investment team.
Kovitz applies the investment methodology pioneered by Benjamin Graham and further developed by Warren Buffett and Charlie Munger.
Prior to founding Kovitz, Mitch was President at Rothschild Investment Corporation. Mitch has been featured in publications such as: Crain's Chicago Business, the Chicago Tribune, the Chicago Sun-Times, and Value Investor Insight. In addition, he has been interviewed on Bloomberg broadcast television.
Mitch graduated from University of Illinois at Urbana-Champaign in 1986 with a Bachelor of Science degree in Accounting. He became licensed as a Certified Public Accountant in August 1986, and received a Masters in Taxation from the University of Illinois in 1987. Mitch is a CFA Charterholder.