Honorees
Debra and Dov Lando
Guests of Honor

Debra and Dov first met while living on the Upper West Side of Manhattan, which is also where they first began married life together. After adding Ruthie and Josh into their small two-bedroom apartment, the young couple decided it was time to move to the 'burbs. Debra had grown up in Montreal, Canada, which was a bit too far away to consider as an option. Meanwhile, Dov spent the earliest years of his life in West Orange, before his family relocated to Allentown, Pennsylvania, for the rest of his childhood. By the time Debra and Dov were looking for a suburban home, Dov's parents had returned to West Orange, and his older brother Zvi had followed them there. Accordingly, it did not take long to narrow down West Orange as their obvious destination.
Enrolling their children at JKHA was only natural, as Dov still had fond memories of his early years spent at its predecessor HYA in West Caldwell. Before long, the family added rambunctious twin boys Benjamin and Daniel, quickly filling up their new home (and the school bus). The Landos quickly came to appreciate the value they received from JKHA, and later RKYHS. The beautiful facilities, caring faculty, and excellent education exceeded anything they had seen before, and reinforced the wisdom of their having moved to West Orange.
Debra and Dov both had exemplary role models for community involvement that inspired them to follow suit. Debra's mother Esther Hutman spent time as Sisterhood President and a member of the board at their shul TBDJ, where her father Monty Hutman served as Gabbai for several years; and they are both pillars of the Montreal Jewish community. Dov's mother Susan Lando was an active member of both shul Sisterhood and Emunah. Dov's father David Lando z"l was a consummate community leader wherever he lived throughout his life, including leadership positions on boards and committees of both shul and school, as well as providing technological support and guidance to the OU. Dov was fortunate to join the board of directors of AABJ&D during his father's final year as long-serving Chair of the Board. Dov's father was a role model for his children and so many others, and Dov continues in his effort to emulate his father's dedication to supporting Jewish community and education.
Debra works as a speech therapist focusing on treatment of young children, a career she always balanced with her time spent raising their four children. Dov works as a lawyer in the financial services industry, currently serving as the General Counsel at Boothbay Fund Management, a multi-strategy multi-manager platform based in NYC. Debra has served our community in various ways, including participation in AABJ&D Sisterhood and various Chesed Committee activities. She has also served on the RKYHS Liaison Committee and was a dedicated lunch volunteer for many years. Dov began his communal involvement at AABJ&D, where he spent several years on the board and executive committee, and also served as Vice President. Dov has also been involved with AIPAC and Norpac, and is a long-standing board member of the MirYam Institute (fka Our Soldiers Speak), which is dedicated to fostering the flourishing of the State of Israel. Dov joined the board of JKHA/RKYHS in 2009, and after serving in different capacities and on various committees, he began his first term as President in 2016—a position he expects to retire from this year, coincidental with the graduation from RKYHS of his "babies" (now decidedly the tallest members of the family).
Debra and Dov continue to put significant efforts into supporting our local Jewish community and institutions, as well as Jewish education and continuity writ large. However, their proudest accomplishments are Ruthie (RKYHS '18, currently attending Yeshiva University Stern College for Women), Josh (RKYHS '20, currently completing his second year at Yeshivat Hakotel), and their twins Benjamin and Daniel (RKYHS '22, heading off to spend next year learning in Israel). However much time and effort Debra and Dov contributed towards our Yeshiva, they feel that they received exponentially more back in the form of the school's role in helping their children to develop into the incredible young adults they are today. Though they appreciate the kindness of JKHA/RKYHS honoring them at this year's dinner, Debra and Dov feel that they are the ones that owe a tremendous debt of gratitude to the Institution and all of its devoted professionals.
Landmark Companies
Distinguished Community Leadership Award
(Mickey Gottlieb, Eric Harvitt,
Joel Schwartz, Jeff Weinflash, Matt Leshetz,
Alan Phil, Ken Gabel,
Jake Harvitt, and Ben Harvitt)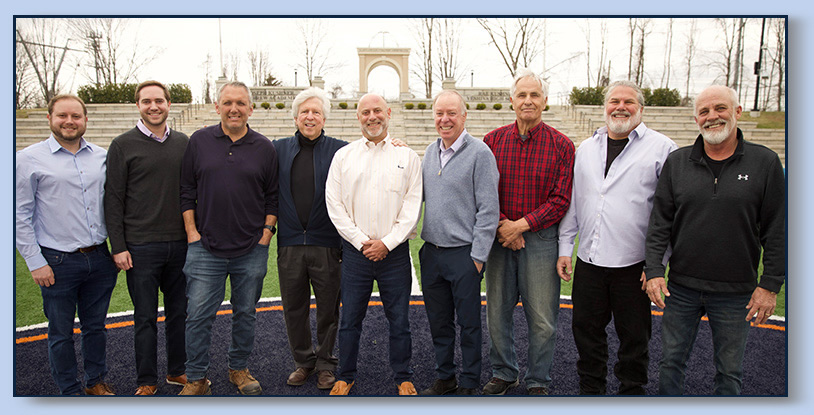 Landmark Companies is one of the leading residential development companies in New Jersey. Whether reinvigorating downtown communities, building and designing suburban infill projects or managing their more than 3,500 rental apartments in New Jersey and Florida, Landmark Companies imagines and brings to life beautiful places that offer the utmost value for individuals, families, neighborhoods and cities.
The leaders of Landmark Companies value education and are committed to making a difference in their community, which is why they care so deeply about designing and building the new recreational facilities at JKHA/RKYHS. Each member of the leadership team feels personally proud to be playing an integral role in the creation of these spectacular recreational spaces for current and future students.
One of Landmark's greatest strengths is the diverse backgrounds of their leaders: Michael Gottlieb (Principal and attorney), Eric Harvitt (Principal and engineer) and Joel Schwartz (Principal architect and planner), Matt Leshetz (VP, Construction & Development), Jeff Weinflash (VP, Land Acquisitions), Alan Phil (Designer & Construction Manager), and Ken Gabel (Construction Manager). Their varied skills enable them to excel in every aspect of the job, whether it be negotiating site approval, overseeing construction, or conducting ongoing community outreach.
Landmark Companies have also won numerous awards and accolades for their preeminent work, including from Best in American Living, Multifamily Executive Magazine, and the American Planning Association. Utilizing high quality materials, time-honored construction techniques and the best modern technologies, they build distinctive homes and thriving communities with timeless appeal.
Educational Excellence Award

Channie Lundner's smile has been brightening the halls of JKHA/RKYHS for 18 years. She began in 2004 as an assistant; since then, she has taught children from grades 1 through 5. She is loved and respected by her students (and their parents) for her creativity, diligence, and extraordinarily ability to educate and generate excitement about learning inside the classroom. Anyone who walks into Channie's classroom sees and feels right away, that she believes in creating a strong and warm positive classroom community in which students feel empowered to explore and learn. She recognizes that each child is a different kind of learner, and she strives to meet their individual needs to help them succeed. Since 2014, Channie has been head teacher for the second grade—but her impact spreads throughout the walls of JKHA/RKYHS.

A passionate advocate for learning enrichment, she brings her energy and enthusiasm to General Studies as well as bringing Judaic studies into her classroom. She not only runs the annual Summer Reading Kickoff, but also partners with the Middle School for a Chanukah Math program and helped implement The Writing Revolution program. She finds time to run the Family Sukkot party for Early Childhood and Lower School every year, as well as working with the Judaic Studies department to design engaging and exciting programming for the chagim. Her second-graders partner with the RKYHS Homelessness Awareness Committee to collect clothing for the homeless. Channie also organizes the school-wide Chai Lifeline Toy Drive every year.

An exemplary teacher, Channie partners with the first-grade faculty on a professional development program to bring values into the classroom. She was the pioneer teacher for the Responsive Classroom program, an initiative designed to balance the importance of learning both social-emotional competencies and academic competencies. She is a co-founder of the NICE program to bring teachers together as a community, and serves as a mentor for new teachers. Channie also works closely with the administration as a teacher liaison.

Channie graduated from Stern College with a Bachelors of Arts Degree in psychology and a degree from Sy Syms Business School, and later received her teaching certificate from William Paterson University. She taught in the Early Childhood program at AABJ&D for three years before joining the JKHA community. Channie and her husband Steve have lived in West Orange since 1998 and have three children: Avi (JKHA '10/RKYHS '14), a graduate of Rutgers University currently working in marketing; Danny (JKHA '15/RKYHS '19), currently a junior at Rutgers University; and Eliana, a sophomore at RKYHS.