Honorees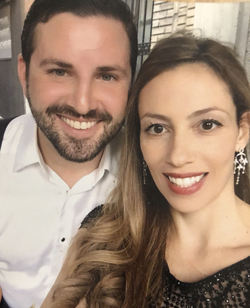 Justin grew up on the Upper East Side of Manhattan. He and his family were active members of the Park Avenue Synagogue where Justin attended Hebrew School through High School. Since a very young age, he was drawn to Judaism. On his Bar Mitzvah trip to Israel, he stated he would one day live in Israel, as he did for two years starting in August 2008. While living in Israel, Justin increased his Jewish learning and began adopting a more observant lifestyle. On his first Shabbat after moving back to New York City he attended services at MJE. It immediate became his community and an important part of his life. Currently, Justin is a Director at East Wind Advisors, a middle-market focused Investment Bank, where he focuses on advising Consumer & Retail companies.

Eliane grew up in Belem, Brazil in a community of only 500 Jewish families in a city of two million inhabitants in the heart of the Amazon. Her paternal grandfather built the main synagogue there in the early 1900s, which remains operational to this day. She grew up enjoying Shabbat dinners, observing the holidays and attending Bnei Akiva Youth Group and Chabad Hebrew School. She was always proud of her heritage and felt deeply connected to Judaism, but wanted to learn more. After finishing High School in France, Eliane made Aliya and studied at Hebrew University for a year before moving to the US. While completing her B.A. at Columbia University, she met Rabbi Ezra Cohen, who was recruiting new congregants to MJE. For the past 16 years she has being a proud member of this incredible community. She currently enjoys raising her sons after a 10+ year career as a broker on Wall Street.

Justin and Eliane met at a Shabbat dinner through a mutual friend and fellow MJE participant. Rabbi Wildes and Jill have been an essential part of their continuous learning, close confidants and solid supporters through life's celebrations as well as more challenging moments. Justin and Eliane are active members of the Jewish community. They serve on the Young Leadership Board of Shalva, the Israel Association for the Care and Inclusion of Persons with Disabilities, are members of Chabad of the Upper West Side and are involved with Chabad of the Upper East Side.

Over the years, MJE - its Rabbis and community members have been integral parts of their daily lives and special occasions from their engagement and wedding to the birth and brits of their two beautiful sons, Ben Tzion and Adam Eitan.

Jewish Leadership Award
Rabbi Daniel and Rachel Kraus
Daniel Kraus is the Associate Vice President of Strategic Partnerships at the Birthright Israel Foundation where he leads strategic alliances, partnerships and ongoing engagement opportunities for the foundation. Prior to the Birthright Israel Foundation, Daniel served as the inaugural Director of the Manhattan Jewish Experience (MJE) Downtown location for seven years. Daniel also served as MJE's Chief Operating Officer. A native of Australia, Daniel is a graduate of Yeshiva University with a B.S, MBA and the Ner LeElef Fellowship at RIETS. He was ordained by Rabbi Zalman Nechmia Goldberg.
For over 13 years, Rachel has worked in real estate development and retail for Unibail-Rodamco-Westfield, where she led business development, brand positioning, and partnership marketing for the US portfolio and special global projects. Most recently she was the Vice President of Marketing where she led marketing strategy, brand experience and strategic partnerships for the World Trade Center retail development. Rachel completed a B.S. from Stern College majoring in marketing with a minor in music including coursework and study at The Juilliard School. She completed her MBA at NYU with a concentration in finance, entertainment, media and technology. Rachel is also the Director of Community Education at Kehilath Jeshurun a Modern Orthodox Synagogue on the Upper East Side of New York where she lectures, delivers sermons, teaches and facilitates educational programming.
Together, Rabbi Daniel & Rachel serve as the Co-Directors of the Community Education at Congregation kehilath Jeshurun (KJ) on the Upper East Side. Prior to joining the KJ community they were proud members of the MJE team where they built a vibrant community of young Jewish professionals in the midtown Manhattan area, with over 7,000 participants from
diverse backgrounds participating in the program. Their energies are now focused on the Upper East Side where they use their dynamic energy and spirit to further build and grow the KJ Beginners and broader community.
Rachel and Daniel were among the 2017 New York Jewish Week's 36 Under 36 list of emerging Jewish leaders. They maintain a very open home hosting Shabbat meals weekly together with their four beautiful children.
Alumnus of the Year
Jonathan Brody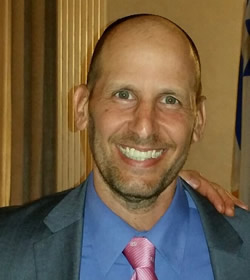 Thank you for the honor of being the alumni of the year.
In 2006 I spoke at MJE on my last Shabbat on the West Side. I closed with I am not leaving MJE, just moving. I have never left the MJE community, more importantly the MJE community has never left me. MJE is an integral part of my life as Jew and as a man.
17 years ago, I was welcomed into the MJE community with no judgements. MJE changed my life from the friendships I have made, to the lessons and values of our incredibly rich Jewish traditions I have learned and carry in my life today.
As I said that day, I didn't leave MJE I just moved, I missed and wanted to reconnect to the community and all of my MJE friends. I had a feeling I wasn't alone.
I helped launch the MJE Alumni What's App Channel. I suggested to Rabbi Ezra let's have an MJE Alumni Zoom call. On February 6, over 60 MJE Alumni came together from all over the world. It was an incredible experience seeing so many old friends reconnecting, there was an incredible sense of connection for the entire community. I am hoping our Zoom call will become an annual tradition.
While being at home during the pandemic, I am so thankful for MJE offering programming virtually. I have been listening to Rabbi Wildes classes, lectures, programs and incredible podcasts weekly.
Jonathan Brody lives in Syosset, with his wife Beth and son Joshua. He currently serves as the chief marketing officer for Veterans Auto Warranty a national aftermarket auto warranty company.
Learning Partnership of the Year
Katie Barnett and Erica Pirak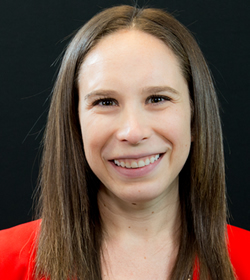 Katie Barnett was introduced to MJE more than four years ago and has never looked back. For the past three years, she has worked in Business Development for LiveRamp, a Data Connectivity Platform. Prior to that, Katie spent nine years in various roles at Nielsen, rising from Administration Assistant to Vice President of Client Solutions.
A Miami native and graduate of the University of Miami, Katie moved to New York in June 2009.
She lives on the Upper West Side with her husband, Avi, her baby girl, Raina, and her Lab/Beagle mix dog, Hazel.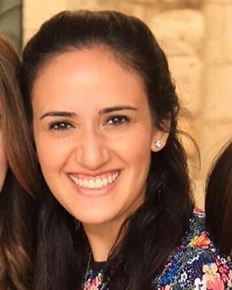 Erica grew up in Springfield, NJ. After high school, she studied at Shaalvim for Women in Jerusalem. She then attended Stern College, majoring in Jewish Studies, followed by Kean University, where she received her Master's degree in Occupational Therapy.
Erica's passion for Judaism and growth propelled her to staff Birthright trips and NCSY summer programs during her winter and summer vacations. Living in the Upper West Side and working as a Pediatric Occupational Therapist, Erica was searching for meaningful and engaging opportunities in the Jewish community. She joined MJE's Fusion program and enjoyed hosting Shabbat meals, learned weekly with young professionals on a spiritual journey, and participated in MJE events, forming close friendships with awesome MJErs. She recently moved to Jerusalem, and currently works as a Pediatric Occupational Therapist.
She continues to share her love for Judaism through her role as Chavruta Coordinator in the RRG Beit Midrash at Hebrew University. Though she is no longer living in the UWS, Erica continues to stay connected to MJE overseas through her weekly learning with her friend and member of the MJE Fellowship program.
Student of the Year
Daniel Wallach
Daniel is a curious kid from Palo Alto, California. Bugged by a loud and persistent question, "What does it mean to be Jewish?", Daniel was thrust into a strange, random, and wonderful journey that brought him to MJE one spring Shabbos morning in 2019. Daniel chose Rabbi Wildes as his mentor the day he met him and continued to say yes to everything MJE had to offer.
As he was completing Fellowship in 2020, the world shut down with Covid19. Confused with the world and eager to continue a path of self-growth, Daniel made a sudden decision last September to fly to Israel and study in Yeshiva. Daniel is an Actor with a special interest in Shakespeare, working in regional theatre before he arrived in New York. When in New York, Daniel continues his artistic pursuits, teaches theatre to kids, and dabbles in Real Estate. Daniel is a graduate of CalArts School of Theater with a BFA in Acting.
Most Valuable Participant
Scott Shapiro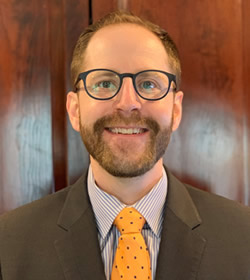 Scott Shapiro is originally from Pennsylvania and attended Rider University where he majored in Finance. He first joined MJE for our Monday night class and after hearing Rabbi Wildes talk about the Torah he realized that MJE was a perfect fit.
Since then Scott has become an active member in the MJE community and proud graduate of 2017/18 Fellowship class and a current Senior Fellow.
In his free time Scott enjoys bike riding, snowboarding, hiking and yoga.