Honorees
Natalie and David Batalion
David comes from Brookline Massachusetts. David went to Maimonides and Yeshiva University. He now serves as Managing Director at Cantor Fitzgerald. Natalie grew up in Montreal. She went to McGill and received an MBA from Fordham University in New York. She works in Marketing at the JCC on the Upper West Side. Natalie and David live on the Upper West Side with their three children who go to Manhattan Day School where they receive a Jewish education. They also attend many activities and classes at the JCC. David and Natalie are very devoted to their community and are active members of West Side Institutional Synagogue. David and Natalie strive to teach their children the importance of giving back and being part of the Jewish community. They are actively involved in many charitable organizations.
Natalie began her involvement with Manhattan Jewish Experience after meeting a friend who was a part of the MJE community. She heard about MJE's summer Israel trip and jumped on the chance to join. The experience of the Israel trip meant so much to her and Natalie fell in love with MJE. She began going to the shul where she was always greeted with a smile and a warm face. She felt the connection and love from MJE right off the bat. Natalie introduced David to MJE after she was involved and since then have been continuing to support the organization.
click here to read full bio
Tovah and Josh first met at MJE in 2006 on Sh'mini Atzeret, where each attended services at MJE with no plans for lunch. Separately, they were invited by Jill and Rabbi Wildes to join their already packed table in the sukkah on 86 th street. While patiently waiting for additional chairs to be brought in, Tovah and Josh got to talking…and the rest, they say, is (Jewish) history. While the commentaries may differ on exactly what transpired next, it wasn't long before Tovah and Josh were committed, active members of the vibrant MJE community, and were married under the officiating of Rabbi Jonathan Feldman and Rabbi Wildes in the summer of 2008. MJE was their home base for learning, celebrating, and overall synagogue life until they moved out of the city years later.Tovah was born at LIJ Hospital and grew up in Bayside, Queens before immigrating to Great Neck. She was a graduate of North Shore Hebrew Academy and went to high school at Ramaz. Tovah spent her gap year at Machon Gold, a seminary for girls in Mea She'arim. Post Jerusalem, she returned to Queens College where she studied Speech and Language pathology and then continued to earn her masters at the MGH Insititute of Health Professionals in Boston. Tovah then worked in private practice, helping young children with speech, language and reading difficulties. More recently, Tovah volunteers extensively at North Shore Hebrew Academy and Great Neck Synagogue. Tovah found MJE through a childhood friend. She was looking to find inspiration and reconnect with Orthodox Judaism – and potentially connect with someone for her future.
Serge and Kaylee first met in NYC in 2018. Kaylee heard about MJE at the Shabbat Across America event at Congregation Kehilath Jeshurun in 2019. She started going to the Hebrew classes offered by Rabbi Heller, and Serge soon joined her. They became regulars at MJE events and classes, and during Covid continued taking classes online. One of the highlights of their week during that time was tuning into Kabbalat Shabbat with Rabbi and Yosef Wildes. In September 2020, they celebrated their aufruf at MJE and were honored with having Rabbi Heller read the Ketubah at their wedding. During 2020-2021, Kaylee and Serge completed the MJE fellowship. Their son David Noam was also born in 2021, and they were delighted to bring him on the Fellow's Israel trip in 2022. Serge and Kaylee now live in Teaneck, NJ, and continue to attend MJE events throughout the year. They are incredibly grateful to MJE for the friendships, Torah learning, and daily inspiration from Rabbi Wildes and his staff.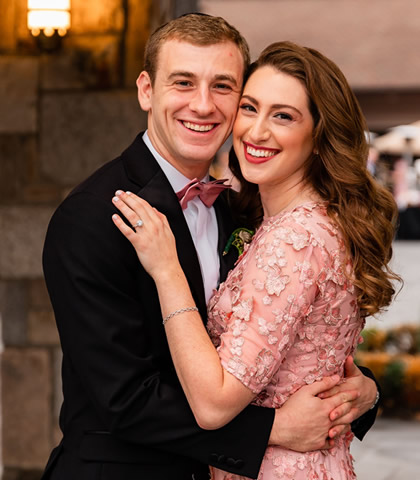 Allison and Rabbi Kevin Wolf
Allison and Kevin first met steps away from the Western Wall in 2017. In 2018, they got married and moved to Israel for the year, where Allison studied at Hebrew University and Kevin studied in yeshiva and received rabbinic ordination. Upon their return to NY, Allison and Kevin craved a community where they can share words of Torah and give back — and they found the perfect match with Rabbi Wildes and MJE! For the past 3.5 years, Kevin and Allison have been teaching Torah classes, learning with community members, leading Shabbat services, and hosting wholesome shabbat and holiday meals. They are incredibly grateful to MJE for giving them the opportunity to make a difference on the Upper West Side, and thankful to the MJE participants who inspire them daily with their curiosity and passion for Judaism. Allison and Kevin welcomed their beautiful baby girl, Eden, to the world this past May.
Gabrielle Weiss grew up in Philadelphia, Pennsylvania prior to moving to New York in 2015. She grew up in a conservative household and grew in her Judaism as she went into college as a dedicated member of her Israel club.

Since graduating from Pace University in 2019, Gabrielle has worked in the Israel education and advocacy space. She currently works for Club Z as the New York Regional Manager where she cultivates the next generation of fearless and proactive Jewish Zionist leaders.

She proudly completed an Orthodox conversion in May of 2022. Gabrielle is currently an MJE LAMM Fellow and has been an active participant at MJE over the last two years.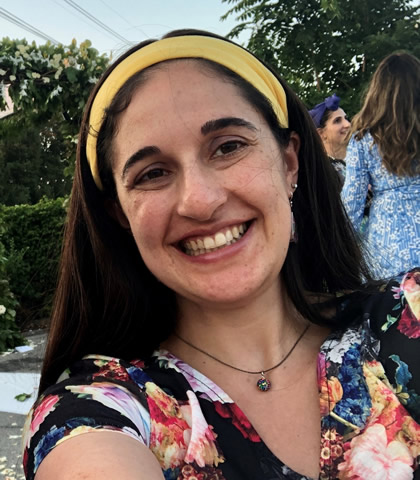 Learning Partnership of the Year
Elyssa has been an MJEer for over a decade. She has enjoyed participating in the fellowship, senior fellowship, one-on-one learning, as well as travelling to Israel and attending hundreds of Shabbat services.

It is at MJE that she found her Jewish community and met friends, mentors, her amazing chevrusa, Avigayil, and eventually her husband, Jon. Now married for 5 years, Elyssa and Jon live on the UWS with their two children, Avi and Hannah.
Avigayil grew up in Toronto and moved to New York to attend YU's Wurzweiler School of Social Work.

She has worked at the Center for Urban Community Services (CUCS) for the past 5 years and is currently Program Director of the Intensive Mobile Treatment program, where she oversees two mental health teams.

Avigayil was first introduced to MJE in 2017 through their Wednesday Night Learning Program and was drawn in by the warmth and atmosphere of joy in learning Torah.

She's been learning with Elyssa ever since and hopes to keep it up! Avigayil lives in Washington Heights.