Movie Night - Batman Returns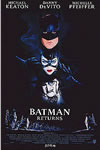 Join us for the exciting movie Batman Returns.

Batman Returns is a 1992 superhero film directed by Tim Burton. Based on the DC Comics character Batman, the film is a sequel to 1989's Batman, with Michael Keaton reprising the lead role. Batman Returns tells the story of a corrupt businessman (Christopher Walken) and the grotesque Penguin (Danny DeVito) plotting to take control of Gotham City. At the same time Batman must deal with the emergence of Catwoman (Michelle Pfeiffer).
Rated: PG
Popcorn and drink for each attendee.

Server: web1 mySQL: mysql3 Session Id: 2cbe5eda48cb4f5c59e9ce81b20b5b30 Session Name: e21