Honoree
Rosh HaYeshiva and Dean of Faculty
We hope you will acknowledge our honoree, Rabbi Jeffrey Fox, to recognize his halakhic vision for Maharat and his dedication to building the yeshiva and its curriculum by placing a tribute message in our online journal. Placing a tribute message provides essential funds towards the future of Yeshivat Maharat.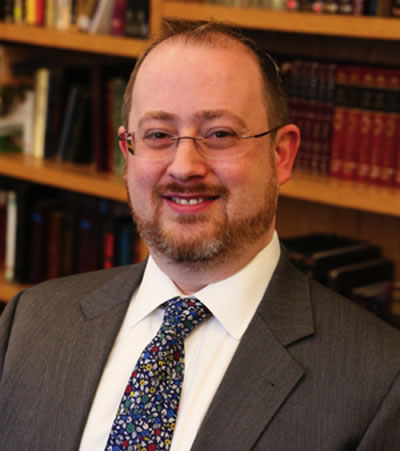 In 2009 Rabba Sara Hurwitz's and Rav Avi Weiss's vision became a reality when Maharat opened. They needed a partner who could both teach and carry the halachic vision. It was bershert when Reb Jeff and Rabba Sara spoke about his dream for women's semikha and what needed to happen in order for it to succeed. He understands that, in a certain sense, the Orthodox community is built on the structure of halakha and it is only through immersion that we can truly appreciate the depths of our own community. Over the past 14 years, Reb Jeff's vision has come to fruition. Our Rosh HaYeshiva has not only the ability to connect on a really deep level with people, but he also swims in the very deepest depths of halakha. He is both the heart and the head of Maharat and we are thrilled to honor him.
Rabbi Jeffrey Fox was the first graduate of Yeshivat Chovevei Torah. Upon graduation he served as the Rabbi of Kehilat Kesher: The Community Synagogue of Tenafly and Englewood. He also served on the board of the Synagogue Leadership Initiative of the UJA of NNJ. Rabbi Fox was a Senior Rabbinic Fellow of the Shalom Hartman Institute and has also been a member of the faculty of the Drisha Institute, the Florence Melton Adult Education School in Westchester County, and Hadar. He lives in Riverdale with his wife and their four boys.