MILESTONE: Celebrating a New Stage in Adat Yeshurun's History (VIRTUAL FUNDRAISER)
Milestones mark a significant stage in life's development, act as signposts that map forward movement and provide opportunity for refreshed renewal. Our Adat family is celebrating such a momentous occasion, a milestone in the shul's 34-year history, with the installation of Rabbi Daniel and Rebbetzin Brooke Reich.
Located in San Diego's "jewel", La Jolla, founded in 1987 by Rabbi Emeritus Jeff and Rebbetzin Shoshie Wohlgelernter, our congregation has grown into a diverse, richly sparkling, vibrant and precious gem sought out by many for caring spiritual growth and inclusive and diverse Torah education.
Our treasure of a shul, like all valuable jewels, requires care. Rabbi and Rebbetzin Reich are eager to move us toward a bright tomorrow with strength and hope. So, we naturally turn to you – our beloved members – for necessary funds to ensure our distinctive standing in San Diego's Jewish community and to continue our growth as an inspiring, guiding and joyful beacon of Orthodox Jewish light.
FOR A LIMITED TIME ONLY: All donation will be MATCHED by our underwriters DOLLAR FOR DOLLAR!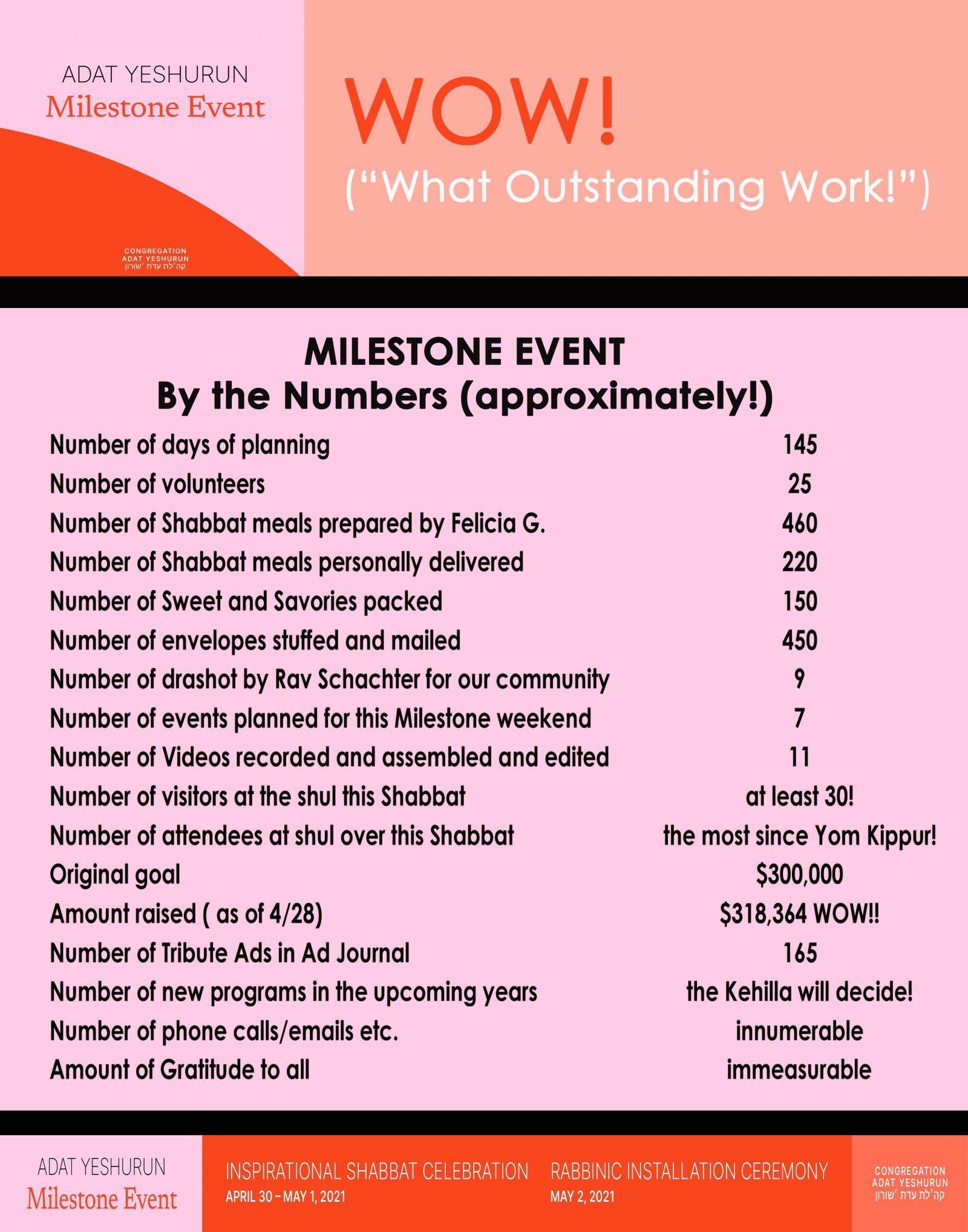 THANK YOU TO OUR SPONSORS
Rhodium - Entire Set of Shas
Brian and Sarah Keating and Family
Brian and Suzanne Marcus and Family
Blue Diamond - Order of Mishna
The Aron Family
Jeremy and Hilda Cohen
Marc and Felicia Gipsman
Yaakov and Devorah Shore
Bertie, Jackie, Lara, Brandon, Anton and Julie Woolf
Platinum - First Tractate Dedication
Jonathan and Amy Aires
The Brenner Family
Gavin and Cheryl Horn and Family
Charles Jaffe and Janith Seidel and Family
Todd and Diane Salovey
Mal and Stan Smiedt and Family
Ruby - Volume Dedication
The Abraham Family
Anonymous
Neil and Ruth Berkowitz and Family
The Borok Family
The Bowers Family
Perry and Michelle Diamond
Sam and Sandra Dimenstein
Zachary and Sigalit Dimenstein and Family
Moises and Jennifer Eilemberg
David and Claire Ellman
The Ertel Family
Barbara and Gary Frank
Roland and Myrice Goldberg
Anne and Len Jurkowski
Megan and Jacob Kamaras
Stuart and Nora Laiken and Family
Marc and Shana Lebovits, and Ossie Saichek
Craig, Marty and Wolfy Lotzof
Lawrence and Aaron Lotzof
Samuel and Joanne Marcus
Harvey Neiman and Family
Martin and Beverley Pamensky
Scott and Floribeth Rappoport
Joe, Pam and Samuel Resnikoff
Colin and Jane Scher and Family
Denise Selati and Family
Doreen and Julian Solomons
The Sragovicz Family
Mitchell Shack and Tina Beranbaum
The Venger and Cummins Family
Gold - Tractate Dedication
Brenda and Stephen Abelkop
Mark and Laura Abelkop
Shimon and Liza Blumenfeld
Alberto and Alicia Chaljon
San Diego Hebrew Day School
David and Mary Feifel
Martin and Arlene Fogel
Jack Forman
Wendy and Harold Frysh
Tanya Goodman
Helfon and Guily Hanono
Dave and Aniko Hastings
Jerry and Sheila Hermel and Family
Rabbi Dovid and Miriam Hirsch
The Kassar Family
Michael and Paula Mantell
Seth, Susan, Raphael and Eliana Pransky
Nancy and Gil Reich
Peter and Gale Shoikhet
Paul, Debbie, Tali, Josh Shtein, and Joan Behrend
The Tradonsky Family
Gidon and Marilyn Williams
Brian Zimmerman
Emerald - Talmud Page Dedication
Jules and Yael Aires
Robert, Nancy and Aharon Barker
The Belcher Family
Sony, Karen, Elad and Nate Ben-Moshe
Rudy and Judy Beraha
Michael and Helene Cobb
Julie, Paul, Daniella, Rebecca and Sarah Datnow
Jim and Sari Esserman
Noel and Miriam Fishman
Miriam Giller
Philip and Glenda Ginsburg
Craig and Dana Glasser and family
Tsvi and Anne Goldenberg
Ceil and Sam Heller
The Hillman Family
Lionel Kahn
Stephen and Alysa Kaplan
Drs. Joel z Katzman
Daniel and Melanie Khabie
Irwin Krinsky
The Levison Family
Celia Levy
Abe and Iris Loebenstein
Laa and Avi Marcus-Heller
Zoe and Jonathan Moed
Nat and Ayesha Schuster
Sorrel and Judy Nemzer
Annette, Connor and Colin Olson
Howard and Diane Schachat
Stanley and Debby Seidle
Yury and Deborah Shlionsky Shlionsky
Eva Shore
Jack and Ellen Zyroff
Silver - Talmud Page Dedication
Micki and Ilana Acks and family
Anonymous
Yaakov Baruch
Jaime and Karen Breziner
Brian and Merle Datnow
David and Jackie Diamond
Howard Dyckman
Jeremy, Pauline, Gavriel, Adin and Simon Factor
Eichner Family
Uri and Belinda Feldman
Alessandra and Galina Franco
The Freifeld Family
Irwin and Ana Friede
Lolie and Sabina Fromm
Dr Dennis Goodman
Martin and Fran Hirschbein
Ivor and Joan Jacobson
Philip and Ellen Kamaras
Joelle Kanner
Judy and Rick Katz
Erica and Avrumi Kessler
Janet, Jacob and Rebeca Klein
Arthur and Peta Klitofsky
Delon Daniela Atara Levi
Frances Lobman
Clive and Tammy Moch
Nicole, Daniel, Sophia and Dahlia Monsowitz
Hana Olivensky
Rabbi Michoel and Chavi Peikes
Michael Pinn
Michael and Charlene Pinn
Gideon Rappaport
Hila, Steven, Jonathan, Phil, Aviva, Rebecca, Noam, Isaac, Bar Reich Family
Elana Rezmovitch and Family
Marlene Rissman
Blue, Ezraella, Alyeska, Shelief Robbins
David and Sylvia Roth
Gavin and Zara Sclar
The Shifrin Family
Hadassah and Jeff Smulevitz
Michael Spilky
The Swartzberg Family
Eva Trieger
Wechsler Family