Grand Marshals / Honorees
Aides:
Grand Marshal, 2018 Eastchester St. Patrick's Day Parade
Volunteer, Realtor, Former Elected Official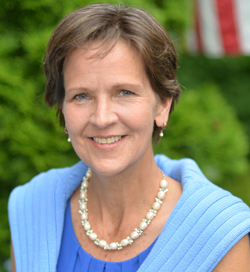 Sheila Marcotte, a resident of Tuckahoe, well known for her community service as a volunteer, licensed realtor and elected official, has been named by the Eastchester Irish-American Social Club (EIASC) as Grand Marshal for the EIASC's 14
th
Annual Eastchester St. Patrick's Day Parade.
Marcotte was born and raised in Framingham, MA, and moved to New York in 1983 to attend the College of New Rochelle where she received a bachelor's degree in psychology with a minor in education. Upon graduation in 1987, she remained in New York and began a career in finance for the brokerage firm of EF Hutton. In 1991, she married Tom Marcotte and eventually left Wall Street, as a vice president for Lehman Brothers on the retail high-yield trading desk, to raise their family.
In 1998, Marcotte moved to the Village of Tuckahoe where her application to volunteer with the village led to an appointment on the Library board in 1999. After serving as secretary to the Library board, she was appointed as a commissioner on the Village Planning Board. In October 2001, the Tuckahoe Village Board appointed her as Trustee and she was elected to that position the following March. Marcotte was appointed to the Eastchester Town Board in 2004 and was twice elected to that seat.
In the spring of 2010, Marcotte won a special election as Westchester County Legislator for District10 which covers Eastchester, Tuckahoe and about one half of New Rochelle. She served on the county board for seven and a half years with two terms as chair, budget and appropriations, and four terms on legislation, seniors and environmental committees.
Marcotte has been a licensed realtor for 24 years and is with Steckler Real Estate. She continues to volunteer with various community projects including the Eastchester Historical Society, Eastchester Community Action Program and Snow Angels, a program that coordinates volunteers to help remove snow for those who are unable to do so. She and Tom have four children, Thomas, Meghan, Matthew and Kevin.
Marcotte has volunteered with the EIASC for several years as one the St. Patrick's Day parade emcees announcing commentary and background information on the marchers to the assembled crowds. As Grand Marshal, she has selected as aides, her sister Colleen Chesmore and daughter Meghan Marcotte.
She traces her Irish heritage from her father, Richard Chesmore, with her paternal great grandparents, Michael F. Carr and Ellen Joyce, hailing from Louisburg, County Mayo, and coming to the United States in the late 1800s. Carr and Joyce were married in1895 in Framingham. They had 12 children—one of whom was Sarah Carr. Richard Chesmore, is the son of Sarah Carr and Earl Heath Chesmore who married in 1928. The Chesmore family name can be traced back to 1715, in Holliston, MA, beginning with Jessie and Samuel Lovering, both of whom fought in the American Revolution.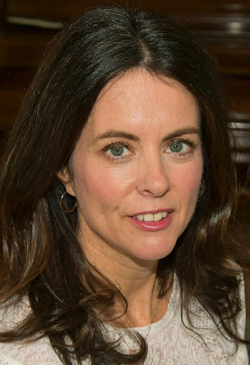 Patrice Buckley, an Eastchester resident, is an Honoree for the Eastchester Irish-American Social Club's (EIASC) 14
th
Annual St. Patrick's Day Parade. She was born in the Bronx to Bridie and Pat Buckley, and her family moved to Ireland in 1977. She spent her youth immersed in step and set dancing, and playing Irish music. She attended Presentation Convent Secondary School in Killarney and in 1985 the family returned to the Bronx.
Buckely received a Bachelor of Science from Manhattan College and master's degrees from NYU and Lehman College. She met her husband John Collins at Manhattan College. They have three children, Cathrena, Conor and Ciaran who carry on the tradition of Irish dancing and music. She teaches biology and is department chair at Columbia Grammar and Preparatory School in Manhattan.
She is a board member and serves as auditor for the Kerryman's Patriotic and Benevolent Association, an organization that raises funds for local and global issues including suicide prevention. Buckley is also on the board of the Eastchester Schools PTA Council. She and her family have been members of the EIASC since 2004. She has volunteered at various events for the club such as the Summer Picnic, St. Patrick's Day Festival and as co-chair of the Christmas party for several years.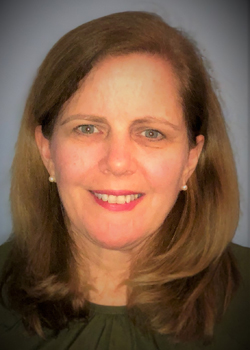 Peggy Lynch, an Eastchester resident, is an Honoree for the Eastchester Irish-American Social Club's (EIASC) 14th Annual St. Patrick's Day Parade. She is a first generation Irish American raised in Yonkers and is the seventh of eight children born to Tommy and Mary Brennan. She attended the Anna O'Sullivan school of Irish dance, and placed in regional and national competitions in both solo and figure dancing. She received her Bachelor of Science in nursing from College of Mt. St. Vincent and her Master of Science from Columbia University.
Lynch has spent the majority of her professional career practicing at Memorial Sloan Kettering Cancer Center (MSK) in various areas including critical care, stem cell transplant and lymphoma research. She presently works as a nurse practitioner in MSK's urology survivorship outpatient program.
She and her husband Brendan have three children Mairead, Ciara and Aidan, and have been members of EIASC since 2002. Her volunteer work for EIASC includes organizing numerous club events including several years as chair of the Christmas party. Lynch is best known role is for her extensive behind-the-scenes work in support of her husband who chairs the parade. This year, in addition to all the usual pre-parade work, she looks forward to being up front at the parade, as an honoree.