Grand Marshal / Honoree
Grand Marshal: Tim McGrath
Parade Honorees: Cathleen (Cathie) Deegan
Grand Marshal Tim McGrath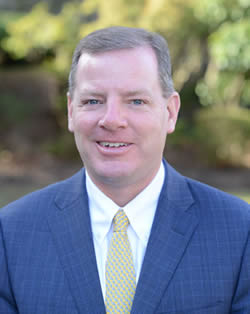 Timothy (Tim) C. McGrath, a lifelong resident of Bronxville and President of Fred H. McGrath & Son, Inc., a funeral home in Bronxville, is Grand Marshal for the Eastchester Irish American Social Club's (EIASC) 16th Annual Eastchester St. Patrick's Day Parade. McGrath is known for his community service leadership in Bronxville, Eastchester and Tuckahoe.
"Volunteering has always been a priority for the McGrath family and I consider myself privileged to serve the Bronxville and Eastchester communities in areas of health care, academics, business growth, church activities and athletics. " said McGrath. "As a lifelong resident of Bronxville, being Grand Marshal in the Eastchester St. Patrick's Parade is an honor that gives me the opportunity to highlight the contributions of Irish Americans to our community."
McGrath serves many local organizations. He is President of St. Joseph's Men's Club Board and on the Bereavement Center of Westchester Fund Board. He is a member and past board member of the Rotary Club of Bronxville. Among other local groups where McGrath has volunteered include Community Fund of Bronxville, Eastchester and Tuckahoe; Bronxville Chamber of Commerce (past president), and The Bronxville School Foundation. The Tuckahoe-Eastchester Lions Club named him their 2017 Man of the Year for his commitment to community.
McGrath is a third generation Funeral Director, at Fred H. McGrath & Son, Inc., a family owned and operated business in Bronxville since 1918. He is grandson of its founder, Fred H. and son of Robert. Before joining the family business, McGrath taught and coached basketball in several local schools. He is a graduate of Fordham Preparatory School in 1987 and Fairfield University Class of 1991.
McGrath's Irish heritage stems from his great grandfather who hails from Donegal and his grandmother from Kerry. He and his wife, Jennifer, have four children, Tim, Jr., Caroline, Sean and Brendan. He is the youngest son of Robert and Barbara "Bumpty" McGrath, who also reside in Bronxville.
Parade Honoree Cathleen (Cathie) Deegan
Cathleen (Cathie) Deegan is being recognized as Honoree at the Eastchester Irish-American Social Club's (EIASC) 16th Annual St. Patrick's Day Parade for extensive volunteer service. Deegan, a 29-year resident of Eastchester, has been a member of EIASC for 28 years. She has served in leadership positions as Gala Chair and Raffle Co-Chair for the annual Gala and Sash Presentation, the major fundraiser to support the parade. Deegan has helped organize EIASC events such as the Christmas Party, Golf Outing and Family Picnic.

Her volunteerism extends beyond the EIASC to the local community including the Wilmont Manor Civic Association and Hendry School of Dance both in Eastchester, and teacher in the School of Religion at Immaculate Heart of Mary, Scarsdale. Deegan traces her Irish roots to her parents. Her mother, Margaret
Donnelly (nee Caffrey), is from Kilnaleck in County Cavan and her father hails from Castleshane in County Monaghan. William, Cathie's spouse, is from Tullamore in County Offaly. They have three children, Ryan, Kate and Cara.

She received her B.S. from Fordham University at Rose Hill and is retired from a career as a stockbroker.