PFY's Mission
PFY is a service and an advocate for lesbian, gay, bisexual, transgender and questioning/queer (LGBTQ+) youth and young adults across Long Island and Queens. Our mission is to improve the health, wellness and cultural competency of LGBTQ+ young people through education, support and youth development. In 2020, over 9,000 LGBTQ+ individuals and allies benefitted from PFY's vast array of programs and services.
A History of PFY
PFY (previously known as "Pride for Youth") is a Division of Long Island Crisis Center (LICC), which has been in operation for 50 years. In 1993, when callers were reaching out on LICC's crisis intervention hotline looking for LGBTQ+ counseling and support groups, there were no resources of that kind on Long Island. So in the spirit of what this organization has always been known for, LICC saw an unmet need in the community, and secured a small foundation grant to start up a LGBTQ+ supportive space called "Coffeehouse". Now, 28 years later, Coffeehouse still exists, along with 19 other programs and services in both Nassau and Suffolk Counties that have been created over the decades to meet the unique needs of LGBTQ+ individuals – now up to age 45!

PFY's Response to the Pandemic

PFY truly did not skip a beat when COVID-19 broke on Long Island last year. Staff worked quickly to move programs for LGBTQ+ clients to virtual platforms immediately (including individual counseling, case management, Coffeehouse, TransAction, MPowermentLI, MPowerVIDA, MPower+, and Pride for Parents), allowing services to continue unimpeded. Through this continuous connection with young LGBTQ+ individuals, PFY staff promptly identified emerging needs within the community and secured emergency funding sources in order to launch new programs that would meet those needs.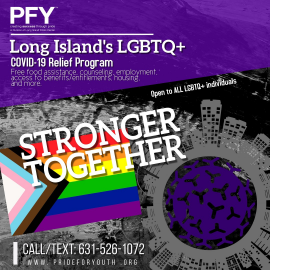 Staff listened to story after story of clients who were experiencing a daunting new reality. When they reported food insecurity, PFY began a free no-contact food delivery service. When they disclosed that they were not safe at home or had been kicked out because of their LGBTQ+ identities, PFY created an emergency-housing assistance program. When clients reported lack of access to confidential HIV testing, PFY developed an in-home HIV testing program. Staff not only maintained services virtually, but also worked tirelessly to address emerging needs as they arose by creating new services during otherwise unsettling and unprecedented times.
What PFY Clients Are Saying
"PFY is the best! When COVID started up last year, I thought I was going to lose touch with all my friends and my counselor [at PFY], but you figured out a way to keep going. Staying connected was the only thing that kept me motivated." – J.R.
"I honestly would have been lost and completely alone last year if I didn't have counseling and groups to attend on-line at PFY. I'm glad you didn't stop working because staying in touch with everyone seriously saved my life." – L.M.
"I have been going to PFY for over five years mostly to hang out and meet new friends. The on-line groups are fun, but I miss seeing everyone, and can't wait to get back to in-person events." – S.D.
"You [PFY] saved my kid's life this summer by holding a camp for young children. This helped them to get out of the house and make new friends they can relate to." – DM

"Being able to return to groups in-person at PFY again is like a dream come true for me." - JJ
To Learn More About PFY Programs and Services, Please Visit prideforyouth.org.
To Speak With a PFY Staff Member, Call 516-679-9000 (Nassau) or 631-940-1964 (Suffolk)