Awards and Honorees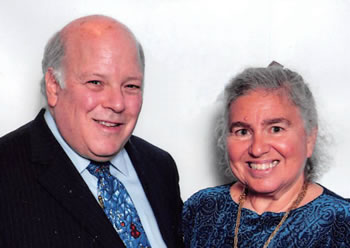 Harry S Feller Award:
Phyllis Bernstein and Robert Kuchner
Phyllis Bernstein and Robert Kuchner have figured out the secret to putting more than 24 hours in a day. Their commitment
to serving the Jewish Community is inspiring.

Phyllis, who served as a CPA/Personal Financial Specialist for many years, now puts her energy into community activism and philanthropy. She serves as co-chair of the economic development committee for the Social Venture Fund for Jewish Arab Equality and Shared Society. Having made over 60 trips to Israel, Phyllis meets with local Arab municipalities, non-governmental organization leaders and civil society leaders in the field of equality and shared society for Jews and Arabs in Israel. She is an active member of the Inter-agency Task Force for Israeli Arab Issues, and Ameinu Board of Directors. She publishes articles and speaks about Israeli-Arab issues, civil rights and civil society in Israel, Bedouin land rights, and minority rights in Israel. She was an elected delegate as part of the World Union of Meretz, and drafted two important resolutions (African Asylum Seekers and Bedouin land rights).

Phyllis is active in her community as a board member of Jewish Family Services of Central NJ, Jewish Community Foundation, Jewish Community Center of Central NJ's Jewish Film Festival Committee and cochair of Arts and Education Committee. She serves on the Executive board of Hadassah Westfield chapter and is active on Federation's committees on Israel, Allocation and Arad Partnership. She is a founding board member of the Mack Ness Foundation and founding Co-chair of Israeli Arab committee of the GMW Jewish Federation and currently co-leader of Westfield chapter of Sisters of Salam Shalom, a Jewish and Muslin women group.

Phyllis held many leadership positions, including board of Rutgers Hillel, New Jersey Jewish News, Jewish Federation, and Congregation Beth Israel. She was co-chair and founder of the Was co-chair and founder of the Greater MetroWest three-day mission to learn more about Arab Citizens of Israel, co-chair of the 50th anniversary Arad mission, and bus captain of the CommUnity mission with 475 people this fall. Received awards from Jewish Family Services, Rutgers Hillel, Union County Torah Center, Women's Philanthropy of Jewish Federation and Westfield Hadassah.

A Partner at Marks Paneth LLP, Robert Kuchner serves a diverse spectrum of privately-owned companies and their owners as well as clients in the theater, media and entertainment industry. He also provides Business Management and Family Office services to a varied client base. his broad background also includes serving clients in the manufacturing, distribution, publishing, banking and finance, leasing and transportation industries, as well as professional services firms. He has been involved in many initial public offerings, leveraged buyouts and acquisition transactions as well as numerous consulting engagements. He has has received many professional accolades including the personal financial specialist (PFS) designation by the American Institute of CPAs (AICPA).

During his "down-time", Robert is the current President of Rutgers Hillel. He is the Past President of the Jewish Community Foundation of Greater MetroWest, NJ and the Past President of the Jewish Federation of Central, NJ (now part of Greater MetroWest). He served as the Assistant Treasurer, long- time member of the Finance Committee and past Audit Committee Chair for the Jewish Federations of North America. He is also the past Co-Chair of the Theater Group of the Entertainment, Media and Communications Division of the UJA-Federation of NYC Robert serves as a member of the Budget and Finance Committee along with chairing their Audit Committee for the Jewish Agency for Israel. He serves as treasurer for the North
American Friends of Amcha Israel. He is president Emeritus of the Dean's Advisory Board of Hofstra
University's Frank G. Zarb School of Business. He currently sits on the Audit Committee, the Foundation Investment Committee, and is a member of the Ness Foundation Board. He is a member of the Executive Committee of the New Dramatists and a past honorary Trustee of the American Symphony Orchestra.

Phyllis and Robert have been married for 40 years and have two spoiled adopted dogs -Honey, the crazy cocker spaniel and Harley, the bird-watching English setter.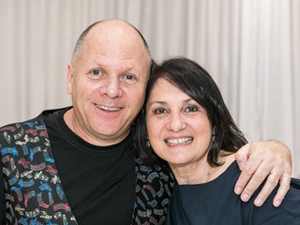 Benjamin L Bendit Family Award:
Silvio and Sandra Berlfein
When Silvio Berlfein was two years old, his family moved from Argentina to the United States and his 1st playground was NJY Camps. His father, Alfredo, was a Phys Ed. Teacher and Physiotherapist and received his first job as a Division Head at camp.

At the age of sixteen, Silvio discovered his true passion when he participated in a leadership course. He wanted to work with groups and entertain people. He also discovered Israeli folk dancing where he went on to become a national figure in Israeli dancing in Argentina and later in South America and the U.S He was the Shaliach of Israeli dance for the Venezuelan Jewish Community where he initiated their Israeli dance movement in 1982. He stayed for a year developing the Israeli dance movement and directed their Kinneret Festival and was founder and creator of Meretz, their first performing troupe. Silvio came back to the NJY Camps at age twenty-three as an Israeli dance specialist from Argentina. After leading performing troupes, creating his own dances and travelling giving workshops around South America, Silvio moved to Miami, Florida, where he continued his work as an entertainer, educator, emcee, Israeli dance choreographer and group engagement specialist.
For the last 25 years, Silvio has spent his summers as the program director for the NJY Camps bringing new ideas to the table every year. His specialty is large group programs which he leads for both campers and staff. These programs begin in staff training week where he brings together more than three hundred staff members from over 20 countries. He prepares the staff to work as a team through songs, games, dances, theatrical activities and body percussion. When not leading large group programs, Silvio can usually be found making use of his Phys Ed degree on the basketball court, teaching the campers some of his "famous" moves.
During the year Silvio leads several Israeli dance sessions and special programs for Temples, JCC's in South Florida and in other communities. He runs other engagement programs and staff training for corporations and consulting firms such as Microsoft, Cisco, GM, and HP in South America, England, Scotland and France. He has travelled to many states to lead Yom Haatzmaut programs, as well as, workshops for teachers and staff from other camps.
Silvio created the dance troupe REGUESH of Macabi Buenos Aires; a performing troupe he toured the US with and performed in Epcot. He was the first Argentine choreographer to direct the Dalia Israeli Dance Festival in Buenos Aires with over 100 groups and with over 5000 attendees. He was the Shiliach of Israeli dance for the Venezuelan Jewish Community where he stayed for a year developing the Israeli dance movement and directed their Kinneret Festival as well and was founder and creator of Meretz, their first performing troupe.
Anyone who has had the joy of participating in a Silvio event will talk about three things: his characteristic whistle that he uses to communicate with large groups, his drum and his mastery of Simon Says. At NJY Camps, the Cedar Lake community will add one more: leading Shabbat services with his guitar.
Sandra Berlfein is also originally from Argentina. She is an Israeli dance teacher and choreographer who started out working with teens in Argentina. She was the creator of a performing troupe called ZAMIR in Argentina; where some of the most prominent dancers and choreographers originated from.
Once in the states, Sandra made a switch in age groups and began working with early
Childhood, where she noticed there were no Israeli dances geared for the young age. She developed an age appropriate Israeli dance program for Early Childhood. This program is geared to connect the children to Jewish values, help them develop social skills and teach about the Jewish holidays through dance and movement.
Currently, Sandra directs two Festivals of Israeli dance in Miami, Florida called Yachad Childrens Festival and Bamachol Hannukah Festival of the Michael Ann Russell JCC. These festivals are hugely successful enjoying over 400 children ages 4 to 11 at each one. She has worked in many different schools spreading her love for Israeli culture, tradition and dance.
When Sandra came to NJY Camps, she expanded into her other passion… ART. She spent her summers at Cedar Lake Camp teaching ceramics as well as general arts & crafts.
Silvio and Sandra have two boys, Michael and Dan, who are third generation campers and staff at NJY Camps. Both boys took on their parent's artistic and performance legacy holding the position of song leader at camp, leading eight hundred campers and staff in song sessions and Shabbat services.
The Honorable Herbert and Jacqueline Klein Award:
Marilyn and Bill Glassner
Marilyn and Bill are the first of three generations at NJY Camps meeting in Teen Camp in 1963.
Bill, a graduate of Rutgers and Columbia University, is currently CFP® (Certified Financial Planner), with Glassner, Carlton Financial Assoc., LLC, in Morristown, NJ. He became very actively Judaically in high school, when he joined United Synagogue Youth where he began as an active member and then served as Northern New Jersey Regional President and International Board Member. During his college years he served as an advisor to a local USY chapter. Living in Israel from 1970-1973, Bill worked as a counselor, teacher and tutor at Ben Shemen Youth Village for children at risk. He is a past Board Member and Chairman of the Committee for Business and Commerce for Israel Bonds (Livingston, NJ office).
Currently Bill volunteers (for last 5 years) with VITA (IRS/United Way) Program, preparing tax returns pro bono for low income families and individuals.
Marilyn, a University of Pittsburgh graduate, was an active member of the NCJW (National Council of Jewish Women), serving on many committees. During her years with NCJW, she was also a facilitator for support groups and a presenter, trainer, scheduler for a Teen Dating Abuse Program. She created and facilitated a monthly book discussion group at Preakness Hills Country Club.
Both Marilyn and Bill have served on the Board of Directors for NJY Camps. Over the years, Marilyn has served on many committees and held a number of offices including Vice President. She is currently serving on the Human Resources Committee.
Their three daughters, Shira, Rena, and Becca, all attended and worked at camp. In the upcoming summer of 2020, six of their grandchildren, Laila, Evan, Sophie, Talia, Noah and Zach will attend camp along with daughter Shira, who will return as a second -year division head in NJW. Their other three grandchildren, Mia, Zoey and Alex are waiting to attend.