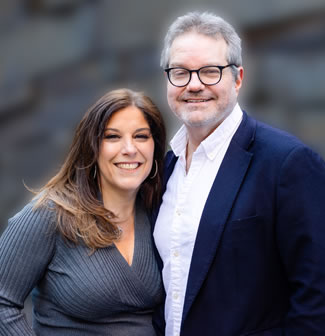 If you ask Leslie and Moshe to describe the best job they have ever had, you will get similar answers: Moshe will say being
Rosh Edah
(Division Head) at Camp Ramah and Leslie will describe working at the
agam
(lake). And if you ask them their favorite places, Moshe will likely say the B-side basketball courts and Leslie would say in the middle of Lake Ellis, halfway between the rock and the sundeck.
Leslie and Moshe are hardcore Ramah-niks. Leslie started camp on A-Side in 1978 and left in 1985 after two years on
Agam
Staff. After college, she served on the Alumni Committee for years as well as being an integral member of the Labor Day Planning Committee. Leslie worked as an engineer for the first 20 years of her career and when she left her job, she came back to her senses and re-joined the
Agam
Staff as an adult for an additional eight summers. She currently runs her own photography business.
Moshe spent five years on staff and was a
Rosh Edah
in 1989, living in Beit Degel Bet. He has played on RBA (Ramah Basketball Association), served on the Ramah Berkshires Board of Trustees for five years, served on the Director Search Committee, and served as informal counsel to camp. Moshe began his career in the Manhattan District Attorney's Office and is now in private practice specializing in criminal defense, commercial litigation and defending students in Title IX and disciplinary actions. Moshe has been an adjunct professor of law for 25 years at Cardozo Law School and has coached the Mock Trial team at the Abraham Joshua Heschel School for the past 15 years. Moshe is also a frequent lecturer at schools and parent groups concerning legal issues facing teens and college aged kids.
Leslie and Moshe have been active members of Congregation B'nai Jeshurun in NYC where Moshe has served on the board.
Leslie and Moshe's daughters Ayelet (
Gesher
'17) and Talia (
Gesher
'20) are both in Israel—Talia on her gap year before attending the University of Wisconsin and Ayelet studying for a semester abroad from SUNY Buffalo. They both graduated from the Heschel School and attended Ramah as both campers and staff.
Camp Ramah has been a constant in the Horn's family life which is a testament to the Berkshires community. Their Camp friends have been ever present in their lives: in their wedding party, at their children's
simchas
, celebrating
chagim
together and sharing many
Shabbos
dinners. Leslie and Moshe love many aspects of Camp but it is the lifelong friendships created, the joyful Judaism and togetherness of the greater Ramah community that has been the driving force behind their activism.
TAMAR QUEEN BARBASH
AVIVA SEIDEN
NAOMI SAPOSH
YAEL ROSENZWEIG

The Queen sisters, Tamar (Gesher '98), Aviva (Gesher '98), Nomi (Gesher '02) and Yael (Gesher '05) have called Camp Ramah in the Berkshires home for thirty years. Their mother, Elissa z"l, worked at both Ramah Berkshires and Ramah Nyack in the '70s. Elissa wanted to share Ramah with her children, so in the summer of '93 she packed up the girls and headed to Wingdale, NY as Rosh Rikud (Head of Dance). There would consistently be a Queen in Camp for the next 17 years. All four were chanichot (campers) and worked as madrichot (counselors) for multiple summers. Aviva and Nomi were on hanhallah (management) in 2004 and 2008, respectively. This summer they will collectively be sending six of their eleven children to Ramah Berkshires in edot (divisions) ranging from Cochavim to Bogrim.
Tamar graduated from Binghamton University, NY in 2004 and got her MSW from Yeshiva University in 2009, putting that degree to use analyzing on-screen relationships as the host of The Shipping Room Podcast. Tamar chaired the Ramah Berkshires Parent Campaign in both 2021 and 2022. She lives in Hewlett, NY with her three children and will have campers in Tzeirim and Cochavim this summer.
Aviva also graduated from Binghamton University in 2004 and went on to get a MSEd in Counseling from Fordham University in 2006. For several years, Aviva served on and chaired the Ramah Berkshires Purim carnival. She has been an edah chair for the Parent Campaign in 2021 and 2022 and served on the Gala committee. Ramah fostered her love of Jewish education and from 2011-2022 Aviva worked at The Leffell School in Hartsdale, NY, primarily as a dean in the middle school using many of the skills she honed as a Rosh Edah (Division Head). She lives in White Plains, NY with her husband Steve (Gesher '97) and their four children. They will have campers in Bogrim, Tzeirim and Cochavim this summer.
Nomi graduated with a BFA from The Fashion Institute of Technology in 2009 and a MSEd from Hunter College in 2011. She too was bound for Jewish education thanks to the foundation she was given in Camp. She worked as a Kindergarten teacher for 13 years, first at the Rodeph Sholom School in NYC and then Schechter Bergen in New Milford, NJ. This year, Nomi took a leap and began a personalized gifts company called Nomi Knows Gifts! She is already giving her youngest children their first camp experience at Ramah Nyack. She lives in Tappan, NY with her husband Ari (Gesher '01) and their three children. They will have a son in Nitzanim this summer.
Yael graduated from SUNY Albany first in 2012 with a BS in accounting and then again in 2013 with an MS. She is a CPA, working at an asset management firm in Manhattan and lives in Teaneck, NJ with her husband Zach and their son Joshua.
The Queen sisters live in four different cities, attend four different shuls and are a part of four different communities but Ramah is at the center of all of their lives. Their closest friends remain friendships they made in Beit Am Aleph and the girls kikar. They know how lucky they are that their parents gave them the gift of Ramah and there is nothing better than knowing they are continuing Elissa's legacy. Tamar, Aviva, Nomi and Yael are thrilled to be honored together.