Grand Marshal / Honorees
Aides:
Grand Marshal, 2019 Eastchester St. Patrick's Day Parade
Community Volunteer, Promoter of Irish Culture, Businessman
"The Voice of the Eastchester Irish"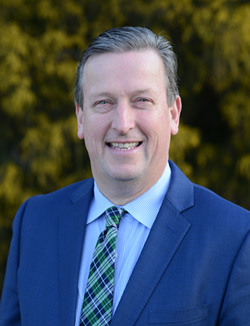 Pat Murtagh, an Eastchester resident, known for his involvement in promoting Irish culture and community volunteer service, is Grand Marshal for the Eastchester Irish-American Social Club's (EIASC) 15th Annual Eastchester St. Patrick's Day Parade.
Murtagh is known as the "Voice of the Eastchester Irish" for his melodious, lilting brogue delivering lively and knowledgeable commentary during the annual St. Patrick's Day Parade. His energetic presence, along with this voice, have him in demand as Master of Ceremonies for many community events. As a 26-year member of the EIASC, he has played many roles in the club's resurgence including terms as Vice President and Public Relations Co-Chair, and as event volunteer. Murtagh is also proud of the growth of Irish culture in Eastchester and surrounding communities through the work of EIASC and Irish dance schools like the Anne Hendry School of Irish Dance and others that did not exist in 1991when he moved to Eastchester.
His community service includes Trustee of the Eastchester Public Library since 2013 and Board Member, Eastchester 5K Committee. He is committed to education as a Board Member, Eastchester Irish Versus Eastchester Italian Golf Outing Scholarship Fund; Member of the Construction Review Committee for the Eastchester High School extension and renovation, and as a former Board Member for Swazi Legacy, an organization supporting education of orphans in Swaziland.
Born in Ballivor in County Meath, Ireland, Murtagh grew up in Portlester Ballivor with his father Johnnie (deceased) and mother Margaret (Peggy), his brother Gerry, now living in Ennis in County Clare, and his sisterMary (Murphy), a resident of Strandhill, County Sligo. His family lived on land where the Battle of Portlester, a famous early conflict for Irish independence, was fought in 1643.
After receiving his Leaving Certificate from Trim CBS, he became a machinist at a local American-owned business. Murtagh was invited to visit the United States in 1983 by his cousins, the Murtha's who lived on Long Island. The Murtha family was a great influence in Murtagh's life, inspiring him to immigrate to the United States in 1984 where he took up residence in the Bronx.
Both in Ireland and his new Bronx home, Murtagh was active in athletics including Gaelic football and soccer. He played on Gaelic football teams with many Irish All Stars in the 1990s including Dublin's Charlie Redmond, Keith Barr and Mick Deegan, and Kildare's Martin Lynch, when travel to New York by Irish teams was common. Among the soccer teams Murtagh played with in the late 1980s and early 1990s includes St. Barnabas of Woodlawn, in the Bronx winning the Flamhoff Cup and Cosmopolitan League Reserve Team Honors in 1992 and 1993.
Murtagh has been employed in the construction industry from the day he arrived in the United States in 1984. He joined Interior Alterations Incorporated in 1997 where he soon became a partner with Bob Helenius and later as Vice President with his current partner Pat Whetzle. Now known as IACM Interior Alterations Construction Management, the firm specializes in brownstone restoration and renovation work. In 2006, Murtagh started a second firm and serves as President of Heights Historic Window and Door LLC, which specializes in custom window and door distribution, and construction management for high end residences.
He and his wife and best friend Margaret have four children—Thomas, Rory, Julie and Patricia. Marching with Murtagh on Parade day will be his Aides: Thomas Murtagh, son; Rory Murtagh, son; Mike Murtha, cousin from Massapequa; Jimmy Murtha, cousin hailing from Mineola, and Roger Tierney, brother-in-law, an Ardsley resident.
Murtagh's involvement with EIASC started very soon after he moved to Eastchester in 1991 through the efforts of EIASC Past President Liam Deegan. At a time when membership was dwindling, Murtagh and Deegan focused on encouraging other young Irish and Irish-America families to join with special events, picnics and parties involving their children. Membership grew to almost 200 families and still hovers around that number today.
Murtagh was part of the core group of new and old members, and town officials, when the idea of the Eastchester St. Patrick's Day parade was conceived to introduce Eastchester to Irish culture. Stepping off in 2005, the parade's first year, was awe inspiring to Murtagh, to see the enthusiasm of the Eastchester community for the marchers.
As Board Member for the Eastchester Public Library since 2013, he has led the Construction Committee on projects to improve the living and working conditions in the 50-year-old building, many completed in time for the library's 50th Anniversary. Among his significant volunteer efforts for education include as Board Member for the Eastchester Irish Versus the Eastchester Italian Club Golf Outing Scholarship Fund which
supports the Mary Denning Scholarship and the Italian Scholarship funds. Funds are awarded to college- or technical school-bound children of the members of the EIASC and the Eastchester Italian Club.
As member of two Eastchester Union Free School District building committees, he has helped advise on high school and middle school construction projects along with fellow EIASC members Enda McIntyre and Brendan Ahern.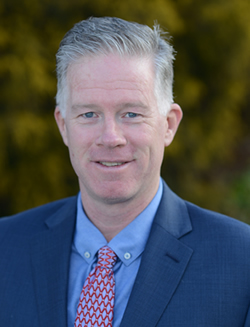 Gary McCloskey, an Eastchester resident, is an Honoree for the Eastchester Irish-American Social Club's (EIASC) 15th Annual St. Patrick's Day Parade.
McCloskey has extensive volunteer service throughout the community. For more than 15 years, he has taken an active role in the EIASC serving as Treasurer and volunteering for many activities. He helped establish the EIASC Annual Membership Social, a membership drive to introduce new and existing members in a friendly and informal gathering.
Many of his community volunteer commitments involve dedication to causes for children and education including serving as Board Member, Eastchester 5K Race Fundraiser to benefit local charities and community initiatives; Cub Scout Cub Master for Pack 353, Charter Organization
Representative and Committee Chair for Boy Scout Troop 1, Eastchester Historical Society Board Member, Greenvale School Treasurer and most recently, Treasurer, Eastchester Eagles Sports Club.
McCloskey is Senior Manager within the Analytics Center of Excellence Business Intelligence and Governance Team for Verizon Communications in Valhalla. He holds a Master of Business Administration with a Concentration in Finance from Long Island University, a Bachelor of Business Administration in Management from Pace University. In addition he is a Certified Scrum Master, a business leadership process used to manage work on complex projects. He has also achieved Lean Six Sigma and is a Six Sigma Green Belt, both from Villanova University.
He traces his Irish roots through his father's family who came from County Derry and Turbot Island, County Galway. They migrated to the United States, some directly to New Jersey and others through Canada, in the early 20th Century. His paternal grandmother lived in the Bronx until her death at age 95.
McCloskey and his wife Christie Marie have three children: Meghan, Ryan and Kieran. He has three brothers, Darren, Keith and Jason, and between them have 10 children. His parents John and Roberta McCloskey, along with his brothers all reside locally in Westchester County.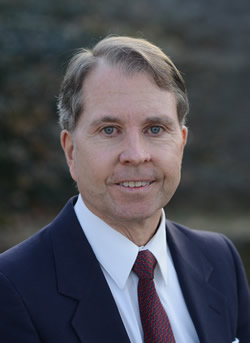 Gerry McLoughlin, an Eastchester resident for more than 22 years, is an Honoree for the Eastchester Irish-American Social Club's (EIASC) 15th Annual St. Patrick's Day Parade. After viewing the annual parade for several years as a spectator, McLoughlin felt inspired to assist the parade and became an EIASC member in 2010. Since then, he has actively supported the parade as a member of the Parade's Line of March team with its important mission of guiding marchers into their correct position before each parade.
Additionally, for more than five years McLoughlin has also served the Eastchester Irish- American Social Club as its webmaster. During this time he has updated and enhanced the club's website in order to provide information to club members and the general public. Most notably, three years ago McLoughlin designed and implemented a complete revision of the website which made it more attractive as well as easier to use and update. McLoughlin's Irish roots go back to the several Irish counties that his ancestors came from including Derry, Donegal, Tyrone and Meath. In 2000, he helped lead the Clan McLaughlin tour of historic sites in the Inishowen Peninsula, County Donegal.
McLoughlin has worked in the Information Technology field for many years and currently provides computer, networking, smartphone and technical assistance to residents and small businesses in the area. Additionally, he has taught technical classes at the Bronxville Adult School for several years.
McLoughlin holds a Master of Science degree in Management Information Systems from Pace University and a Bachelor of Arts degree in Mathematics/Computer Science from Antioch College.
He has also served the cooperative where he resides as a board member for more than 15 years and in other capacities.
Key Leader & Organizer for Eastchester's & NYC's St. Patrick's Day Parades, Active in Boy Scouts, Supporter of Irish Contributions to American History & Life Tom Beirne, a resident of Chester Heights in the City of Mount Vernon, is an Honoree for the Eastchester Irish-American Social Club's (EIASC) 15th Annual
St. Patrick's Day Parade.
Tom Beirne, a resident of Chester Heights in the City of Mount Vernon, is an Honoree for the Eastchester Irish-American Social Club's (EIASC) 15th Annual St. Patrick's Day Parade.
As an EIASC member, Beirne has been part of the Parade Committee organizing the Eastchester St. Patrick's Day Parade since its inception and now serves as the Line of March Chairman, coordinating the placement of vehicles and marching units. Beirne has worked on the St. Patrick's Day Parade, in Manhattan, for more than four decades and has served on their Board of Directors as Vice-Chairman.
Beirne, an Eagle Scout, donates his time to the Boy Scouts as Assistant Scoutmaster, Advancement Chairman for Boy Scout Troop 353 in Eastchester and an Instructor at the annual University of Scouting. He has been an officer of the Ancient Order of Hibernians (AOH) and is currently New York State AOH
Chairman for Catholic Action.
A proud Irish American, Beirne traces his Irish heritage through his emigrant parents; Frank Beirne (deceased) from County Leitrim and his mother Mary (nee Cody) Beirne from Killkenny. He is married to Virginia and they have three children: Sean, Margaret and Audrey. Beirne holds a bachelor's in civil
engineering from Manhattan College. He is well respected in the construction industry with more than 30 years experience supervising large complex projects. For almost 10 years he has been employed by JT Magen & Company, Inc. as a Project Superintendent.
The Archdioceses of NY requested Beirne's expertise in organization for the Papal Mass in Madison Square Garden during Pope Francis's visit in September 2015.
He has worked on behalf of many charitable causes, chairing benefits, dances and large events. He was Chairman of the 175th Anniversary of the AOH in America in May 2011, the 100th Anniversary Commemoration of the 1916 Easter Rising on Saturday April 23, 2016 in NYC, and a Month's Mind Mass in St. Patrick's Cathedral for Martin McGuinness, Former Deputy First Minister for Northern Ireland in 2017.
Beirne's dedication and leadership has been recognized through the years including: Honorary Grand Marshal of the 2016 Queens County St. Patrick's Day Parade, Irish Echo Newspaper - Community Champion in 2016, AOH Division 5, Bronx Spirit of 1916 Award in 2017 among others. In addition to his service to the
above organizations, Beirne is also active in the Knights of Columbus in Tuckahoe, Irish Institute, County Leitrim Society, Friendly Sons of St. Patrick, Immaculate Conception Parish, and his children's schools and activities.
He initiated and organized two solo runs by world renowned endurance runner Tom McGrath. The first run supported a memorial at the US Naval Academy for Commodore John Barry, an Irish-born naval officer known as "the Father of the American Navy" and the subsequent run helped raise money for wheelchairs
through the American Wheelchair Mission. Beirne chaired the committee that undertook an extensive process to have John Curry, the youngest visionary of the miraculous apparitions in Knock on August
21, 1879, exhumed. Curry died in New York in 1943 and was buried in an unmarked grave on Long Island. Cardinal Dolan celebrated a requiem Mass for John Curry, with hundreds of pilgrims from Knock in Mayo, Ireland, relatives of John Curry, and Fr. Richard Gibbons Rector of Knock present for the reburial in the historic cemetery adjacent to the Basilica of St. Patrick's Old Cathedral, lower Manhattan, in 2016.