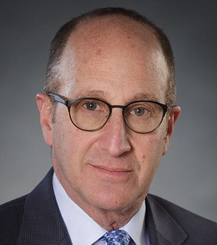 Lewis Broad has long been a philanthropist and activist in support of Jewish culture, community, and ideals. He first became involved with SSLI in 1995, when his twins began kindergarten. Lewis is the proud parent of three Schechter alumni, the last of whom graduated in 2013, and to whom he successfully imparted his value of building tikkun olam.
Lewis served on the Board of Temple Beth Israel in Port Washington for several years. He is now a member of an Advisory Committee at Chabad of Port Washington. Lewis was a member of the Board of the UJA-Federation of New York for two 6-year terms as well as the LI Chair of Connections.
Lewis currently serves as the Founder and CIO of Keter Point - a venture capital firm he runs alongside his son, Benjamin - where they have incorporated their Jewish values by forming an impact investing arm of the firm whose goal is to help lift underrepresented voices and support companies working to build a better world.
His three children, three grand-dogs, and one grand-cat are eminently proud of his lifetime commitment to support and build the Jewish community and all, including Lewis, are grateful for SSLI's recognition of his contributions.
Laleh and Anton are the proud parents of Zachary (10th grade) and Sofia (6th grade). Both Laleh and Anton are immigrants to the United States and Schechter has become their second home. Laleh has been supporting the school as a member of the Board of Trustees since 2012 and devoting her energy and expertise as a member of the Executive Committee and as one of the school's legal advisors. Laleh proudly volunteered her time as the President of the Board of Trustees from 2018-2021 and continues to serve as a member of the Executive Committee. Anton's experience and assistance were instrumental in the summer of 2019 when the lower and upper school were combined into one building and campus. Of course, Laleh and Anton's support of the school clearly shows their love of SSLI.
Professionally Laleh is an attorney at Cox Padmore Skolnik & Shakarchy LLP. Anton is the founder of Anton Developer of Forest Hills, Inc and has been developing residential apartment buildings for the last 30 years. Laleh and Anton are very moved and appreciate being selected as honorees.
Keter Shem Tov Award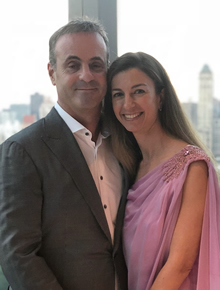 Samara and Sam are the proud parents of Dov (2020 graduate), Boaz (10th grade) and Shay (7th grade). Samara was in the inaugural class that graduated from Solomon Schechter in Suffolk County, which years later became the reason she met Sam, who was a supporter of Schechter. The Schechter connection is what led their Rabbi to set them up on a blind date!
Needless to say, Schechter has been the foundation for the growth of their family in many ways. At SSLI, Samara has served on the Head of School Advisory Board, been a class parent for many years, and is a respected physician member of the Re-Entry Committee. Professionally, Samara is the Senior Associate Dean for Education at the Zucker School of Medicine, and an Endocrinologist at Northwell Health. Sam is the founder and CEO of Shay Capital, a NYC hedge fund.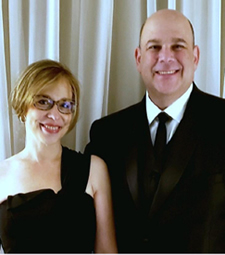 Steven and Michele are the parents of three wonderful children who have all benefited from a Schechter education: Joshua (Schechter '19), Gabriel (12th grade), and Sam (Schechter 8th grade). They both deeply believe in and support the mission of SSLI.
Steven is a board-certified reproductive endocrinologist. He is the former Clinical Chief of Infertility at Yale University School of Medicine and the founder and medical director of Gold Coast IVF in Woodbury, NY. He has helped patients from around the globe to achieve their dream of parenthood since 1993. Michele, a graduate of Harvard Law School, is the Executive Director of GCIVF and is also a published author of numerous works of fiction and non-fiction.
Steven is a highly regarded member of the SSLI Re-Entry committee and serves on the board of Temple Beth Sholom.
Keter Shem Tov Award
Cara and David are incredibly grateful for the stellar education and nurturing environment that Schechter has provided for Sara (6th grade) and Eli (4th grade). They are both proud to be actively involved with the Schechter community. Cara served for several years as a Rabbi in Residence in the Lower School, while David has been a valued member of Schechter's Medical Re-entry Committee.
Cara currently serves as the Associate Rabbi at Temple Beth Sholom in Roslyn Heights, where she is deeply engaged in social action and social justice education as well as family education and engagement. David is an Attending Physician in the Division of Allergy/Immunology at Northwell Health, where he serves as the Medical Director of the Center for Young Adult, Adolescent and Pediatric HIV. He also serves as the Founding Director of Northwell's Center for Transgender Care.
Keter Shem Tov Award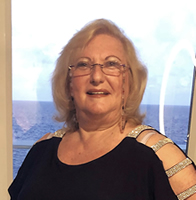 Sara has been a beloved faculty member for 19 years, beginning as a Hebrew teacher and adding Hebrew Coordinator to her portfolio of responsibilities. Sara is known for the extraordinary effort she puts into each year's culminating Senior Class all Hebrew language production. We all wish Sara and Avi a healthy, happy, and fulfilling new chapter of their lives.